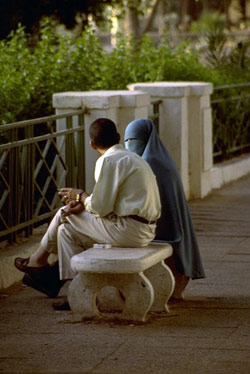 The course Sharing Lives intends to encourage Christians to share their lives with Muslims in five steps. Each step is addressed in one lesson.
Lesson 1: Our View of Islam
During this lesson we will look at Jonah's unwillingness to be God's servant among his enemies in Nineveh.  Also the students will be helped to articulate and discuss their fear (and related attitudes of anxiety, prejudice, suspicion) and their questions and concerns of Islam or Muslims and understand the justification of these. In conclusion we will look at our fear of Islam in light of God's Word in Isaiah 40-54.
Lesson 2: Developing a Grace Response to Muslims
In this lesson we will look at the grace of God in Jonah's life and his unwillingness to be a channel of this grace. Also the students will learn to understand the importance of grace of God in the Bible and in their own lives. We will also help the student to  develop an attitude of grace towards Islam and Muslims.
Lesson 3: Understanding Muslims
In this lesson we will provide the student with accurate information about key aspects of Islam and we will look at what Islam teaches about the prophet Jonah.
Lesson 4: Meeting with Muslims
During this lesson the students have an opportunity to meet and interact with Muslims, to learn about their faith, their lives. They will be encouraged to ask intelligent questions to Muslims and reflect on the responses they have heard.
Lesson 5: Building Relationships that Last
In this lesson we will help students to understand the importance of relational and incarnational witness and encourage them  to proactively build meaningful relationships with Muslims that will enable them to share Jesus Christ with them. We will also provide the students with suggestions and tools that help him/her to develop a friendship with a least one Muslim.
After each lesson the student will be given some home work. This will take an average of 30 minutes per lesson to complete.