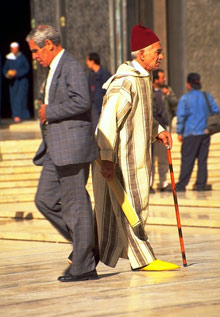 Sharing Lives, Bert de Ruiter
This book argues that the single greatest hindrance to Christian witness amongst  Muslims in Europe is fear. Many European Christians fear that Europe will gradually turn into Eurabia, or Islamic domination of Europe, and they ignore the efforts of Muslims to adapt to the European context, a situation pointing to a future scenario of Euro-Islam, or Islam being  Europeanized. The author argues that instead of an attitude of fear, which leads to exclusion, Christians should develop an attitude of grace, which leads to embrace. After analyzing books and courses developed to help Christians relate to Muslims, he concludes that these mostly concentrate on providing information and skills, instead of dealing with one's attitude. Because of this the author developed a short course to help Christians overcome their fear of Islam and Muslims and to encourage Christians to share their lives with Muslims and to share the truth of the Gospel with the purpose of attracting them to Christ.
Inside Islam (DVD)
"Inside Islam" is a 2002 documentary that provides a good introduction to Islam. Topics include Islam's connections with Judaism and Christianity, the life of Muhammad, the Five Pillars of Islam (the profession of faith, prayer, charity, fasting during Ramadan, and the pilgrimage to Mecca), and the history of Islam, women in Islam, European colonialism, Islamism, the Nation of Islam, and jihad.
Cross and Crescent: responding to the challenge of Islam, Colin Chapman
Challenging us to examine our own attitudes, Colin Chapman considers the issues involved in Christian engagement with Muslims and Islam. He explores, ultimately, how Christians can effectively bear witness to Jesus. This book includes material on 'Islamic Terrorism', 'What is Islam?', 'The Qur'anic View of Christians' and 'Explaining Christian Beliefs About Jesus'. It will equip Christians to better understand Muslims and Islam in a rapidly changing world.
Grace for Muslims? The journey from fear to faith, Steve Bell
Why should an essentially 'benign' religion turn some into 'demons'?" asked a Muslim journalist. It is a question that is at the heart of the Islamic debate. Alarmist claims are made about these 'demons', while the possibility of a peaceful Islam is dismissed. Many are confused about the religion's contradictory faces. Is it possible for Christians to relate to Muslims without being politically naive or theologically liberal? Steve believes it is. He shares his own journey and reflects upon how he arrived at the crucial ingredient grace.
Encountering the world of Islam, Keith Swartley (editor)
"Encountering the World of Islam" is a study course textbook, including articles from eighty authors, who have lived throughout the Muslims world. This book guides you on a journey into the lives of Muslims around the world and in your neighborhood. Through this comprehensive collection, you will learn about Muhammad and the history of Islam, gain insight into today's conflicts, and dispel western fears and myths. You will also discover the frustrations and desires of Muslims and learn how to pray for and befriend them. Encountering the World of Islam provides a positive, balanced, and biblical perspective on God's heart for Muslims and equips you to reach out to them in Christ's love.
The Crescent through the Eyes of the Cross, Nabeel T. Jabbour
In this book, the author an Arab Christian wants to help readers understand and develop compassion for Muslims. The author writes a fictional story line about Ahmad, one of his Muslim friends. We also 'hear' from Ahmad's father and sister in Egypt. Through 'the mouth' of Ahmad and his relatives the author discusses several aspects of the Muslim worldview, which Christians who want to share the Good News need to deal with, such as: the relationship between Jesus Christ, Mohammad, the Qur'an and the Bible; the role of Israel, cultural differences; the role of women, the Western 'Christian' history of the Crusades en Colonialism; contextualizing our message; integrating Muslim Background Believers into the Church.
Waging Peace on Islam, Christine A. Mallouhi
How can caring Christians approach Islam? As relations between Islam and the West grow more polarized, many Christians are nervous about meeting Muslims. How can we possibly overcome years, if not centuries, of mistrust?   Christine Mallouhi, who married into a Muslim family and has lived much of her life in the Middle East, suggests we should emulate St. Francis, who during the Crusades went to be with the Muslims and even shared the gospel with the Sultan.
The Costly Call, Emir Fethi Caner and H. Edward Pruitt
Twenty modern –day stories of Muslims from different parts of the world, who found Jesus.
Daughters of Islam – Building Bridges with Muslim Women, M. Adeney
In Daughters of Islam Miriam Adeney introduces you to women like Ladan, Khadija and Fatma. You'll learn about their lives, questions and hopes. You'll learn how they are both representative of and unique among their Arab, Iranian, Southeast Asian and African sisters. And you'll discover what has drawn them to Christ.  As you enter into the lives of Ladan, Khadija and Fatma, you'll gain insight into how to relate to other women of Muslim background–and how to introduce them to Christ.
The World of Islam (CD)
The World of Islam CD-ROM contains 39 complete books and numerous articles on Islam and Christian witness, including a 750-page Dictionary of Islam, articles regarding contextualization and the roots of fundamentalism and militancy in Islam. Ten newly updated maps depict the current situation of the Muslim world. In addition… over 100 printable photographs of the Islamic world, eight complete courses of study on Islam by noted scholars, complete, searchable text of the Qur'an, annotated bibliography, links to Web sites related to Islam and much more. . . over 12,000 pages of resources!
More than dreams  (DVD)
In a docu-drama format this DVD contains five true-life stories of former Muslims who now know Jesus as their Savior. Stories were selected from Egypt, Iran, Turkey, Nigeria, and Indonesia. More Than Dreams re-created each of these stories, producing each in its original language. The movies include a ministry segment explaining what it means to follow Christ and leading viewers in the salvation prayer.